Closed-circuit appliances for new homes.

Why installing airtight appliances (wood or pellet stoves, fireboxes & inserts) ?
Without oxygen, no fire. The functioning of solid fuels heaters (fireboxes, stoves..) is operated by an outside air intake which provides the necessary oxygen supply for the combustion; then preventing the house to be under low pressure.
Now, houses must provide stricter insulation standards and energy savings. In order to answer to those new requirements, a large range of Seguin stoves and fireboxes offer the possibility to not use the ambient air of the room for the combustion. The appliances directly take the fresh air from the outside, through a sheath directly connected to the outside or a double-flow flue. The appliance is operating as a closed circuit or airtight circuit. This document shows the different solutions provided by Seguin.
Wood stoves
We propose, as an option, a kit of outside air connection, allowing the supply of the combustion air from the outside directly.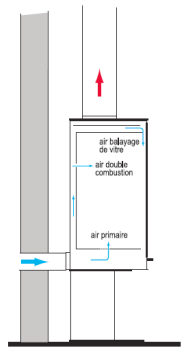 Primary air
Double combustion air
Glass air wash.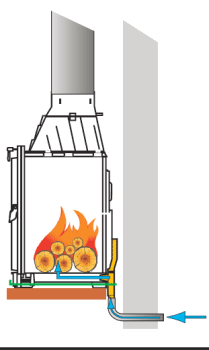 Fireboxes
On Seguin "New Generation" fireboxes, an air regulator allows to connect, to the outside fresh air, a unique air intake for primary and secondary combustion. This system is patented by Seguin.